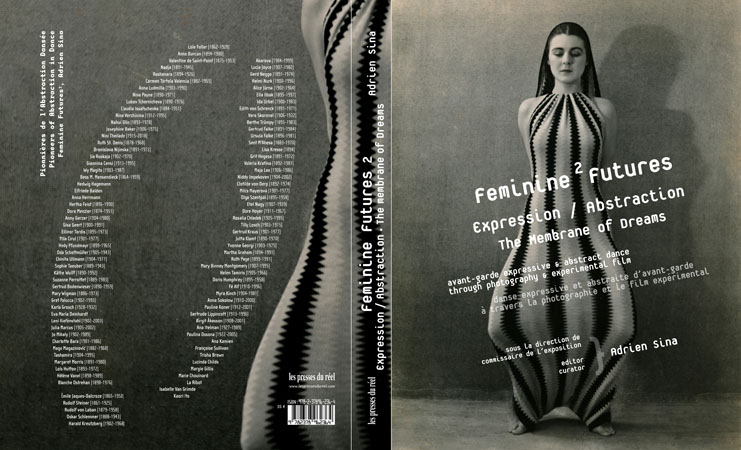 Eleven years after the publication of the first volume of Feminine Futures in 2011, this sequel explores the dance history of abstraction in the feminine, during the first half of the 20th century and continuations today, unfolding new research perspectives with a new body of rare or unpublished original photographs.

Sometimes on the bases of science or early modern esotericisms, sometimes by a reinterpretation of antique geometric gestures, sometimes searching for life reform (Lebensreform), liberation of the body or dance therapies, sometimes as an aftermath of expressionist theories, the connections between these pioneers of abstraction in dance are traced across the whole of Europe to Estonia and Russia, then to Israel or Palestine, North America and Latin America, in the contexts of wars, exile, political resistance or in times of peace.

Dance would not have had this major impact on the history of art without the aesthetic contribution of a rare constellation of photographers specialising in what was already an unusual field. The conjunctions between dance and photography or dance and film created unique works of art. At this period, the sensitivity of emulsions did not facilitate stage shots, therefore the creation took place in studios. Here, the dancers crystallised the quintessence of their inventiveness in a synthetic image, a compendium of theory and visual innovation, which contributed to their reputation. In this very competitive landscape of dance schools, public or 'underground' recitals, they had to forge their identity through the power of the image or face oblivion. It is the aspiration for originality, autonomy and freedom that gives a particular historical character to these works, embodying an inexhaustible source for all future creativity.



Adrien Sina

: 'Les pionnières de l'abstraction dansée.

Loïe Fuller, Valentine de Saint-Point, Gret Palucca, Giannina Censi

', Elles font l'Abstraction,

Centre Pompidou

, curated & edited by

Christine Macel

, 2021, p. 56-65


Adrien Sina

: '

The Pioneers of Abstraction in Dance. Loïe Fuller, Valentine de Saint-Point, Gret Palucca, Giannina Censi

',

Women in Abstraction

,

Guggenheim Bilbao

, curated & edited by

Christine Macel

, 2021, p. 56-65

Four Feminine Futures exhibitions, curated by Adrian Sina:



1– Feminine Futures – Valentine de Saint-Point
Performa Biennial, founded and directed by RoseLee Goldberg, Italian Cultural Institute, New York, November 2009 – January 2010
2– Feminine Futures – Performance, Dance, War, Politics and Eroticism
The Consortium Contemporary Art Centre, co-founded and directed by Xavier Douroux, Dijon, June-September 2014
3/4 – Feminine Futures – The Membrane of the Dream I/II
Museum Langmatt, directed by Sarah Zürcher, Baden, Switzerland, Part I: April-August 2015, Part II: September-Novembre 2015




Feminine Futures exhibitions are structured around a uniquely curated collection including a large number of original photographs, manuscripts and first editions. Through sharing knowledge, theoretical essays in related publications and key loans, Adrien Sina has also contributed to the historical sections of: 'Art, Lies and Videotape: Exposing Performance' by Adrian George, 2003, at the Tate Liverpool, 'Traces du Sacré' by Jean de Loisy + Angela Lampe, 2008, and 'Danser sa vie' by Christine Macel + Emma Lavigne at the Centre Pompidou, 2011, 'Futurism' by Didier Ottinger + Matthew Gale at the Tate Modern, Londres, 2009, 'Inventing Abstraction' by Leah Dickerman + Masha Chlenova at the MoMA, New York, 2013, 'The Great Mother' by Massimiliano Gioni at the Palazzo Reale, Milan, 2015, 'The Milk of Dreams' by Cecilia Alemani, at the Biennale de Venise, 2022.

In conjunction with 'Elles font l'Abstraction' & 'Women in Abstraction' by Christine Macel at the Centre Pompidou & the Guggenheim Bilbao, 2021-2022. Adrien Sina, 'Les Pionnières de l'Abstraction Dansée' p. 56-65, 'The Pioneers of Abstraction in Dance' p. 56-65 of the exhibition catalogues.